Make A Lasting Impression!
Our beautiful recital hall offers a remarkable space for piano & music teachers like you, to host memorable recitals that will leave a lasting impression on both your students and their families…. and it's FREE!!   
Check Availability
Why Free?
"We know the incredible dedication and impact piano teachers bring to the world of music and piano education. We've taught piano lessons ourselves, supervised many piano teachers in our former music schools and gratefully supported many patient piano teachers of our own 8 children over the years!
We know how hard you work! Your tireless efforts shape not only young musicians but also the future of our families and community. Offering our recital hall space to you is a tiny thank you compared to your legacy, but a very heartfelt thank you, nonetheless!"
-Brigham & Karmel Larson   
Schedule FREE Recital
Book FREE Recitals Often!
Each piano teacher or music teacher is welcome to reserve up to 4 recitals/year to provide the many benefits of performing at a young age for your students.
Improved confidence
Increased creativity
Better concentration/focus
Experience in goal-setting
Inspiration from listening to other students perform
A feeling of accomplishment, belonging, and recognition
Schedule Now & Often!
Frequently Asked Questions
Is your facility handicap accessible?

Our facility is not handicap accessible. There are stairs required and no elevator is available, so please make sure families know to plan accordingly.
How do you handle schedule changes and cancelations?

Please make changes or cancellations at least 4 weeks (30 days) prior to the scheduled recital time.
How much time may I reserve for my FREE recital time?

In order to avoid overlap, there is a 15 minute gap between each event scheduled. Recitals may begin as early as 10:30 am (Mon-Sat) and all recitals must end by 5:00 pm (Mon-Sat)

You are welcome to have FREE PIANO RECITAL HALL access during the time you have reserved. If you need additional time for set up or take down, please factor that into your booked reservation time.
May we bring treats and refreshments for after the recital?

Yes! You are more than welcome to have refreshments and celebrate your students! To help us keep the pianos safe from spills, we ask that you do so in the parking lot upon exiting the store.
What if we have a unique need or special requests?

Please feel free to email our friendly staff at info@BrighamLarsonPianos if you have any special requirements, needs or questions regarding your FREE PIANO RECITAL HALL booking.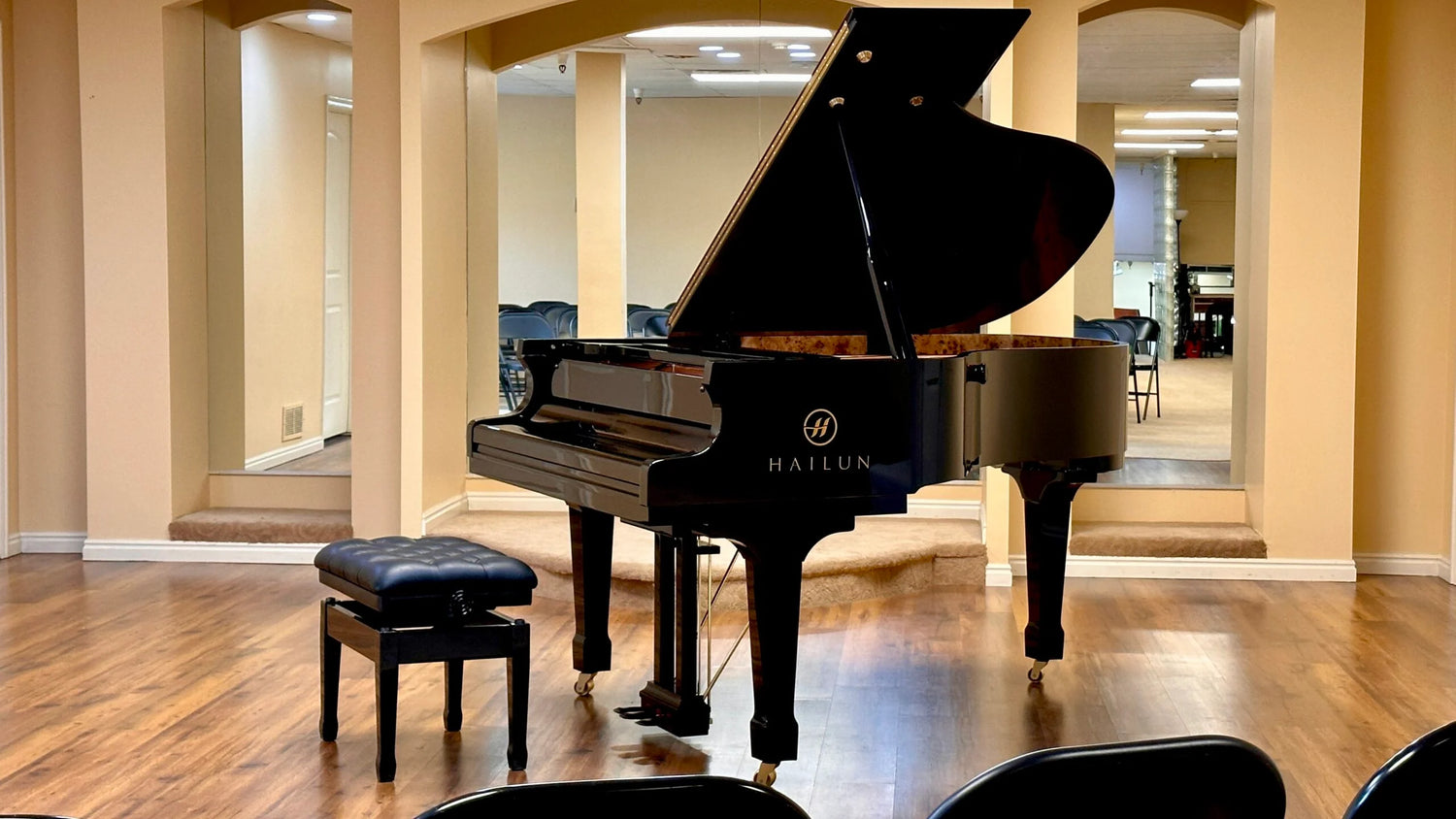 The Stage Piano
Step into our world… where piano preparation is an art form.
We understand that a truly remarkable recital experience begins and ends with an expertly prepped, high end piano. Our recital hall is staged with an award winning Hailun grand piano, meticulously prepared by our in-house expert piano technicians. Precision tuned and regulated to meet your musical needs, ensuring that your piano recital is a great success!
Scheduling Reminders
Starting at 12:00 a.m. on August 1st, each year, our online booking link is available to begin accepting reservations for the upcoming calendar year on a first come, first served basis.
Please contact our friendly team at info@BrighamLarsonPianos.com for all FREE Recital booking requests.
Include your first & last name, email, cell, the date(s) requested, and any questions you may have. A member of our admin team will be in touch with you.
Booking Your Recital
To schedule, please call, e-mail, or fill out the form below. Please keep in mind that your reservation is not complete until our friendly staff confirms your reservation with you.